METGALEX Janiak Sp.J.
Metgalex Janiak Sp. J. is a company with over 60 years of history. We are a metalworking company. We provide CNC turning and milling, stamping, welding, laser cutting and bending services. The implemented ISO quality system guarantees the highest quality of products.
Partners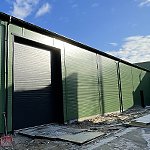 Construction of a new production hall
We have started the construction of modern production facilities
We are monitoring the progress of construction works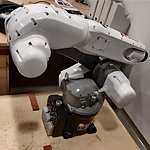 Precise CNC machining robot
New hardware purchase - a precise CNC machining robot
We develop modern technologies
Laser cutting
CNC Turning
MetalworkingIs our specialty
CNC processing | Precise metal working
We specialize in metalworking. We utilise modern CNC machines.
Our machines:
We have professional metalworking machines. We are constantly increasing the range of our devices, thanks to which we can fulfil even the most sophisticated orders for our customers.
Metgalex is a company that has been operating continuously since 1959. From the beginning of our activity, we focused on professionalism. As a result we have been present on the German market for over 30 years. We specialize in broadly understood metal processing. Our team consists of 60 qualified employees who work on orders as well as provide advice on the services provided. The 14 thousand m2 of our premises include:
4000 m2 production hall,
a developed range of machines,
our own measuring facility.
Caring about the quality of our services, we have implemented the following certificates: ISO 9001:2015, PN-EN ISO 3834-2:2007 (since 2008), elements of ISO/TS 16949:2009.
Feel free to contact us.
Company history
A short history of our company
The history of Metgalex dates back to 1959, when Henryk Janiak started to produce small metal accessories in his attic. Being a one-man company, at the beginning he commissioned galvanic coatings to other companies, but over time he launched his own electroplating plant. Its production grew every year and employed more and more personnel.
The 1970s was a time of great development for Metgalex. Henryk Janiak's company was one of the first to obtain a concession enabling individual exports. During this period, the company also began to produce more complex products, including metal furniture, stands and gas cylinder trolleys. These products, prepared on time and of the highest quality, were so popular that their production has evolved from domestic to export.
In 1980s, the son of Mr. Janiak joined the company, after graduating from the Poznań University of Technology. At that time 90% of production was exported to Germany, England, Austria and France. Since then, the company has been maintaining production and cooperation with the foreign markets.